Note:
The new place is dictedit.sourceforge.net. But presently the developement is ceased.
For an introduction, see DictEdit below.
Dictedit2 is the upcoming new DictEdit which is based on a completely new codebase and uses a much better readable code (and has a documented source ;-).
New features
Support of TEI (Electronic Text Encoding and Interchange), substandard dictionary (what else ;-). Note: This support is presently very limited!
Tear-off menus and the menu is now movable in a toolbar
Display the entries graphical (using QTextView)
Also available under the FreeBSD license, but you may still use it under GNU ;-)
Screenshot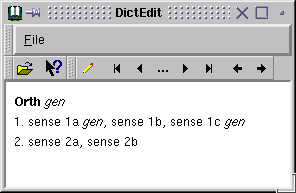 (One probably needs to know TEI to understand the shown text; orth is the <orth> entry, the headword; <gen> is the genus (m-masculin,f-eminin,n-neutral/neutrum) and sense is the <tr> entry within a <sense n='1'><trans>...</trans></sense&gt block.)
Availibility
This application exists presently in the pre-beta state and isn't presently downloadable, but you can drop me a mail, if you want to have the source or the Linux binary.
Projects: What you could do
Testing, sending bugreports, doing some coding (especially liked ;-), translating the PO files, creating an optional/additional configure support (presently tmake of Troll Tech is used, which also works under Windows), ...
DictEdit is an editing program for the source files of the dict.org project. It is based on Troll's Qt 2.1 and should be compilable under Unix and WindowsXX, but I have only tested it under i386-Linux.
The program is released under the GNU license.
Notes: This project has been stopped in favour of DictEdit2, which will include support of the TEI format (see above). It didn't make sense to use this as codebase (except of some codesnipplets), since the design changed a lot and due to the fact that TEI needs a lot of changes. As a sideeffect the filestructure and the documentation is now much better than in DictEdit(1).
Features
Display dict files, which follow the %h ...%d convention (This is for instance the case for the freedict dictionaries). -- The %h entries apprear in a scrollable list whereas the the selected item is additionally displayed in a edit line. The corresponding %d entry appears in a multi-line edit.
The files can be in either ISO 8859-1 (Latin 1) or in UTF-8 unicode. The used codec can be selected in the Option menu; further codecs can be added on request.
The entries can be edited and new items can be added, old once removed and the order can be changed.
Note: it is presently not possible to print the file.
Multilingual interface; presently English and German
Support of drag'n'drop
Network transparent: file:// is supported natively, other protocolls can be added on request and will probably follow soon after Qt has released their Network libs (which contain ftp and http support).
Others: Fontselection, Tab width setup
Screenshot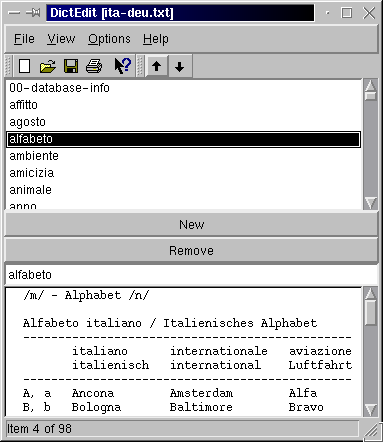 Files
Ein Freedict-Wörterbuch: Italienisch-Deutsch
Un dizionario di Freedict: italiano-tedesco
The source (*.xml, iso-8859-1 encoded): TEI format.
Note: I haven't checked against the DTD, but it should have only some minor DTD errors.
The List (*.html; iso-8859-1 encoded)
Note: This is not yet correct XHTML/CSS
The uses XSL (XSLT)
I uses this in order to create the HTML list, but there may be still some flaws
Number of entries: Not even a hundred, but using all TEI features. Since I have a large list, which is not based on TEI I can rather fast convert some entries -- I hope.
---
Tobias Burnus Last modified: Sat May 20 20:44:47 CEST 2000